Welcome To The Washburn Public Library
Our Mission
The Mission of the Washburn Public Library is to provide the residents of the city of Washburn and the surrounding community with quality books, media and programs that serve their informational, educational and recreational needs.
Residents and visitors to our beautiful library are invited to relax and read in one of our many comfy chairs.
Get a library card and then take your time selecting items to take home to read, listen to or view.
And More
Research your favorite subject at our computerized catalog—or ask our staff for help—and spread out your finds at one of our tables.
Use one of our public access computers—or bring your own device and jump on our WiFi. Get access to our online resources and use materials from shared regional, state, national and world-wide collections.
Take part in one of the many programs and events our library sponsors for your enjoyment! Or reserve one of our meeting rooms for your group.
Our library is handicap accessible. Use the entrance on the 3rd Street side of the building. There is a lift (not an elevator) at the side entrance, and there are handicap accessible bathrooms in the basement.
Call the library phone before you enter the building if you need assistance with the lift, or if you would like materials brought out to your car—our staff is happy to help!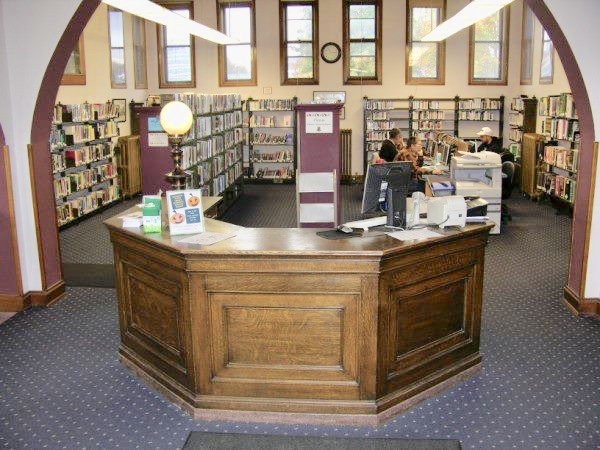 History
The Washburn Public Library is a Carnegie Library. The library, built in 1904, was the first permanent home for Washburn's library program. Founded in 1885, the library previously was housed in the first City Hall, which was located at the corner of First Avenue East and Bayfield Street.
Architect Henry Wildhagen designed the building in the Neoclassical style. The front entrance is located in a portico with Ionic columns. Three windows with a joined sill are located on each side of the entrance, and chimneys on either end add to the building's symmetrical appearance. The building was built with local brownstone. The library was added to the National Register of Historic Places on March 1, 1984.
Darrell
Pendergrass
Director
Caroline
Nelson
Library Assistant
Deb Terry
Library Assistant
Meg Krause
Library Assistant
Steph Winter
Circulation Assistant
Our Board
The Washburn Library Board oversees the operation of the Washburn Public Library under the authority of Chapter 43, Wisconsin Statutes. The Board meets the first Tuesday of each month at 5 p.m. Agendas are posted in the Calendar, and at City Hall.
Margo Smith
President,
School District
Representative
John Gary
City Council
Liaison
Les Alldritt
trustee,
Treasurer
Mary O'Brien-Cotherman
Trustee,
Secretary
Darrell Pendergrass
Library Director